Control Your Outdoor Environment With Vertical Drop Screens
If you have a porch or patio you'd love to enjoy more, vertical drop screens make it possible for you to control your outdoor environment. These beautiful custom additions to your home allow you to create shade at the touch of a button. You'll still be able to enjoy the views and nature you love—just without the insects and hot sun!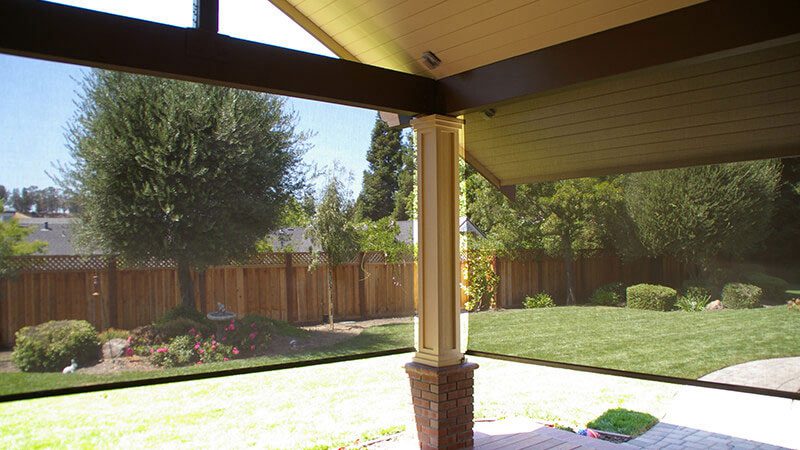 At Awning Pros, Inc., we install vertical drop screen options manufactured by Sunesta. These screens come with the option for wireless control, and their range of colors and frame choices allow you to customize a look to perfectly complement your home.
Benefits of Vertical Drop Shades
You don't have to move your outdoor living space just to be more comfortable. With the addition of Sunesta vertical drop screens, you can instantly create shade to protects you from the sun's rays, insects and blowing rain. Instantly gain more privacy and comfort from your outdoor living spaces.
Tell us what you want and how you want it and our Awning Pros team will help you pick the right screen or product and the optimal placement. With up to 5 ways to raise or lower screens, our team will help you select the best delivery system to meet your needs.
Our personalized process allows you to get the most benefit from Sunesta vertical drop screens, so you can enjoy your investment for many years to come!
Find Out More During a Free Consultation!
Do you have an outdoor space that's difficult to enjoy because of insects, too much sunlight, lack of privacy or wind driven rain? Vertical drop screens a solution to turn your outdoor living space into a true lifestyle room. Find out more about our industry-leading products by contacting Awning Pros today for a free consultation at (916) 220-3437, or submit our contact form to reach us!