Your Trusted Awning Installer Offering Expertise to Create the Perfect Outdoor Space
Awning Pros, Inc. is an award-winning locally owned business, operating in Northern California and Nevada since 2004. Our service area extends from the Bay Area to Sacramento, through to Reno and points north and south.
We take great pride in helping our customers select the right products to meet their individual needs. We recognize that each home or business is unique. We recognize that each customer has specific needs and may not know all the options available. That's where we come in.
Our job is to help you select the right products to meet your needs, but also to help you create a look and feel to enhance your enjoyment of your property.
From awnings and shade screens that create an oasis of shade in just the right place, to security screens that look like simple screens but use enhanced technology to stop even the most determined intruder, Awning Pros, Inc. takes pride in helping you decide on just the right product.
We Work With Homeowners, Landscape Architects, Designers & More
We regularly work with landscape designers, building architects, and home designers to help them create distinctive outdoor spaces which are beautiful, functional and safe.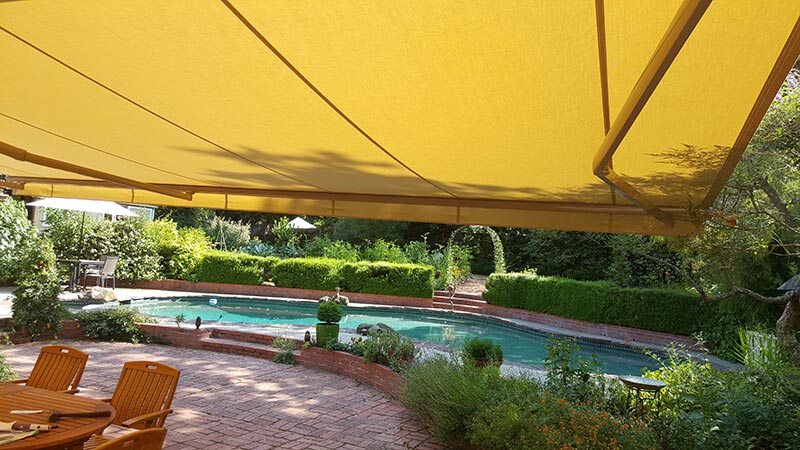 We're an authorized dealer of Sunesta products and have been recognized as Sunesta Dealer of the Year five times. Awning Pros, Inc. is also A+ rated with the Better Business Bureau.
We serve San Francisco's East Bay Area through Sacramento into Reno, NV, plus points north and south, bring you unparalleled expertise to create the perfect shading solution for your most-loved outdoor areas!
Products We Offer
We sell and expertly install a wide range of products from a variety of manufacturers who make products to enhance your outdoor spaces including Sunesta, Sunbrella, Sattler and Tempotest. We also sell and expertly install security screens which are both beautiful and functional.
Awnings – We install, repair, and maintain fabric awnings and retractable awnings. 
We can customize your awning up to 40' in width with a projection of up to 14' 8".

If you need it wider, we can incorporate more than one awning. We have your space needs covered!
Vertical Shade Screens – These screens are designed to give you Perfect Shade. We will help you identify areas where sun will encroach into your awning covered space. 
An example would be a west-facing deck. You have shade until the sun begins to set. So about 4:00 in the afternoon, the sun comes in on a slant. Our beautiful vertical screens will help you keep the view and block the sun.

All Awning Pros sunscreens help block harmful ultraviolet (UV) rays and help prevent the warming rays of the sun from reaching your home.
Retractable Roofs – We install retractable roofs that can be attached to your home, deck or patio.
Roofs up to 18' wide with a 23' projection.

We can also customize stand-alone retractable roofing systems away from your home, such as over gazebos and picnic areas.

We will customize your product to meet your specific needs and help you create a beautiful outdoor space to match your lifestyle.
Security Screens – We can meet your door and window security needs with beautiful and functional stainless-steel screens. 
All screens allow for airflow while blending into your doors and windows, maintaining the beauty of your exterior.

Security screens are stainless-steel and are

very difficult

to puncture.

Security screens are designed so that an intruder cannot lift them out or get a crowbar behind them,

due to our custom installation hardware.

All Awning Pros security screens are Fire Department rated for ease of exit in an emergency.

With our screens, you can leave your home open to the breeze while maintaining your family's security.
Security Screen Types – We can customize your needs with:
Standard Screen Doors

French Doors

Sliding Doors

Pet Doors

Standard and custom sized windows
All of our solutions can reduce the amount of sunlight entering your home or business and make it easier to maintain the ideal indoor temperature. Our team is dedicated to educating you on all your options. We'll determine where the sun hits your property and can recommend the best shading solutions based on what you're looking for!
Your Consultation With Us Is Free!
Get in touch with Awning Pros, Inc. today to schedule your free consultation with our team at (916) 220-3437. You can also fill out our contact form to reach us!