Professional Awning Repair Services to Keep Your Awning Beautiful
For some homeowners, awning damage is obvious. Whether you have a retractable or fixed awning in place, awnings can suffer damage from age, misuse and severe weather.Protect your awning's function and aesthetics with awning repair services by Awning Pros, Inc.. Our team is trained and qualified to make repairs to all of your awning products. We don't just service Sunesta® products — we offer awning repairs for all brands!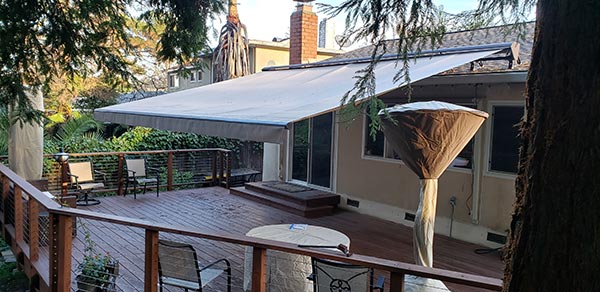 You can count on our professionals to properly service your awning. If we can repair it, we'll quote you an honest price for doing so. If your awning would benefit from a replacement, we'll recommend cost-effective replacement options based on your needs.
How Do I Know If My Awning Needs a Repair?
Awnings are meant to protect your outdoor living areas and create a sheltered space everyone can enjoy. When your awning isn't working properly, it's not doing its job. There are many signs that could mean it's time to get a repair for your awning
Your awning's motor isn't working.
The awning is detaching from its frame or your home.
The frame itself is damaged.
Your awning has damage that makes it unsafe to operate.
If your awning isn't working properly or has unsafe structural damage, it's time to get a professional opinion. Awning Pros, Inc. can provide a completely free, no-obligation estimate for awning repair. Our prompt services will get your awning back to normal operation as quickly as possible!
Repair Your Awning With Awning Pros, Inc.!
We may be able to repair components of your awning without replacing the entire unit. To get a free estimate for awning repair, contact Awning Pros, Inc. today by calling (916) 220-3437. You can also fill out our convenient contact form to reach our team and schedule an estimate!