Beautiful, Durable Patio & Deck Shading Products
Harsh sunlight will not only cause fading of your deck and patio, it will make your outdoor living areas… well, unlivable. Patio and deck shading can completely transform your outside space, shielding it from the blinding sun and instead creating cool, relaxing shade. At Awning Pros, Inc., our deck and patio shading solutions can also help reduce the sun's effect on your home, making it easier to maintain a comfortable indoor temperature and potentially lowering your energy bills.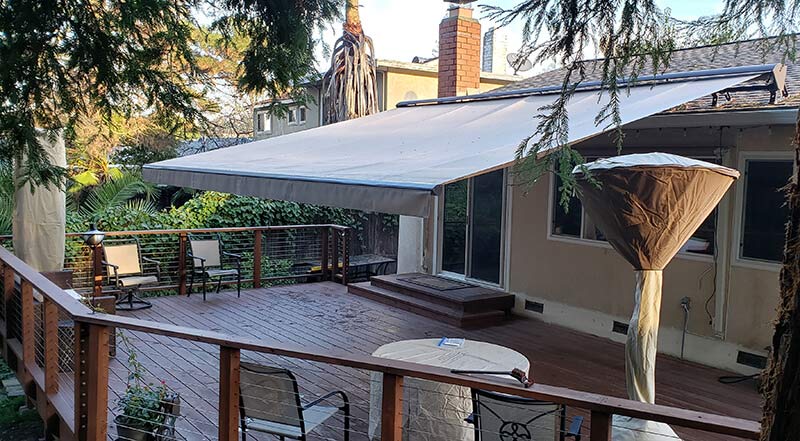 Our durable, elegant shading products from Sunesta are customizable and retractable. These patio and deck additions offer ultimate comfort when you're outside!
Transform Your Home With Custom Shade Solutions
Whether you're looking for standalone patio structures or permanently attached additions, Awning Pros, Inc. provides low-maintenance and hassle-free protection from the sun and rain. Sunesta's easy-to-operate shading solutions include:
Retractable fabric awnings. Customize your level of shade and style with a retractable fabric awning. Control when and where you want the sun!
Vertical drop screens. For vertical shading when you need it, Sunesta's vertical drop screens are retractable so you can optimize your level of light.
Retractable roofs. Get full protection from sun and rain with retractable roofs for your outdoor spaces, and open them wide when the weather is just right.
Patio covers. Invest in a stunning, low-maintenance patio cover that complements your home and provides cool shade under the hot sun.
Accessories. Sunesta accessories include the Sunboot, an awning cover to protect your patio structures during the off-season, and the Shadeside, which blocks sun that invades your patio from the side. We also install LED awning lights to brighten your space at night.
All of our options are installed by trained, experienced professionals. Should you have any issues at all, you can count on Awning Pros, Inc. to make it right!
Get a Free In-Home Consultation
Get an estimate for patio and deck shading to create a more enjoyable outdoor experience and improve your home's energy efficiency. Call Awning Pros, Inc. at (916) 220-3437 to schedule a complimentary, in-home consultation today, or contact us online!